View our Boston Trips
Explore the historic sites of Boston and let us handle all of the rest.
Boston is a city filled with endless touring options for educational tour groups. From open-air markets, hands-on exhibits, and fascinating monuments and museums rich with history, to a fun and interactive tour of Fenway Park or aboard a ghost trolley tour, there's something for everyone. A few of our favorites that are not to be missed on your next Boston class trip include: 
Boston Tea Party Ships & Museums
Voted the #1 "Best Patriotic Attraction" by USA Today, the Boston Tea Party Ships and Museum is an excellent way to learn about the events leading to the American Revolution over 230 years ago. This is a favorite amongst students and teachers alike, featuring an array of exhibits in the museum, live actors interpreting history, and full-scale replicas of the 18th-century ships. 
Boston's 275-year-old meeting hall, Faneuil Hall Marketplace, is a must on every Boston itine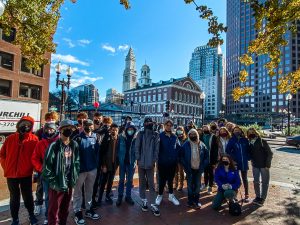 rary – and for a good reason! There are four historic locations to conveniently explore: Faneuil Hall, Quincy Market, North Market, and South Market. Enjoy a unique dining experience here while being entertained by street performers, dancers, musicians, and magicians along the cobblestone grounds.
Step back in time to the 17th century and board the full-scale reproduction of the original Mayflower that brought the Pilgrims to Plymouth in 1620. Learn about this historic voyage from role-playing reenactors while viewing fascinating exhibits related to the journey. This is an immersive, exciting, and informative experience for all!
Referred to as "America's Most Beloved Ballpark," a visit to Fenway Park in the heart of Boston is a must for both history and sports enthusiasts. Home to the city's beloved Boston Red Sox since 1912, Fenway Park has been host to some of the most famous Major League Baseball players for decades. Walk through the renowned park and take in views from left field atop the Green Monster to enhance your tour of Boston!
Isabella Gardner Stewart Museum
Isabella Stewart Gardner, a passionate traveler and collector of rarities opened her museum in late 1901. Not only does the museum host an impressive display of paintings, sculptures, tapestries, books, and manuscripts from Europe, Asia, and the Americas, it is also the site where one of the most dramatic art heists took place in 1990. 13 paintings were stolen from the museum and to this day have yet to be found. Learning about the life of Isabella and her collection of masterpieces is an experience to remember.
Get ready for a good laugh and a fresh perspective on art! Join us on a tour of the National Portrait Gallery as we showcase the top 10 funniest portraits. From "The Laughing Cavalier" to "The Mona Lisa," these works of art will have you in stitches and leave you with a new appreciation for the world of art.
Read More »
Discover the best restaurants for groups in Midtown Manhattan with our top 5 picks. From classic Italian-American at Carmines, to upscale sushi at Sushi Nakazawa, and trendy Mexican at Empellon, there's something for everyone.
Read More »
All prospective college students should take HBCU college campus tours. The next step for students after deciding on their major is picking the best college. According to Melissa E. Wooten, a student at the University of Massachusetts Amherst, "[HBCUs] are a crucial arena for the fight for civil rights and equality" (Wooten, 2015).
Read More »
Travel With Ease
Educational group travel is what we do best. Let our Landmark Leaders remove all of the pain that goes into planning your class on a trip.