Our passion for travel is indescribable
Our goal is to provide group tours an outstanding level of our highest quality educational service.
Landmark Educational Tours is employee-owned and operated by travelers who have a passion to help others explore the world's landmarks. Our values, vision, and mission are rooted in the hospitality industry. We invite all ages of travelers to embark to landmarks around the world with Landmark Educational Tours!

Michaela Ruffino, Managing Director
Leading the industry with exceptional service for all.
We are a group of young, dynamic travel enthusiasts that customize engaging, educational, and thrilling travel adventures for students of all ages. Experiential education is powerful. We are privileged to provide such an experience to all of our customers and our incredible team. Our trip organizers are empowered to take advantage of the opportunity to travel the world while providing excellent service to clients.
Our people are your people.
Traveling is hard, and planning and executing a trip of dozens of students is even harder. We at Landmark love to help, throughout the booking process and on the trip we go above and beyond to ensure that you can truly travel with ease. Click below to learn about our amazing team.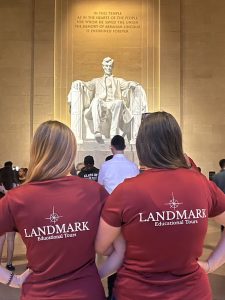 Take it from them,
not us
Michaela was very thorough, responsive and knowledgeable! It was a pleasure to work with her. The trip went very well and the parents and students enjoyed every minute!
Washington D.C. Trip