Washington, D.C. is full of history and entertainment, but, it's neighborhood cities are where you are bound to find endless activities for your group. Georgetown is a charming area full of great restaurants, upscale shopping, trails, and fun activities. We have done the digging for you, to create the quintessential list of destinations for your visit to one of Washington, D.C.'s most visited cities.
Heading to the heart of Georgetown, at the intersection of M and Wisconsin Street, is often the beginning of any great shopping trip to Washington, D.C. M street is listed as one of the best shopping streets and the United States, and we understand why. With a healthy mix of iconic brand-name stores and one-of-a-kind boutiques, the streets of Georgetown are a shopping connoisseur's dream.
Eastern Market is our first notable retail destination. With fresh food, community activities, local farm-fresh produce, and handmade arts and crafts on the weekends, the market is situated in the center of the historic Capitol Hill area. 
For all things design head to the area known as Book Hill (located along Wisconsin Avenue between O Street and Reservoir Road). The charming neighborhood is flooded with quaint antique shops, art galleries, and incredible bakeries.
Fashion-forward shoppers can take advantage of Georgetown's diverse collection of clothing and decor stores. Some of our favorites located in Cady's Alley (An outdoor shopping destination with high-end retailers) include Relish, Billy Reid, and Blue Mercury.
One of the most important parts of any trip is the food. Georgetown has over 100 restaurants that cover over 50 ethnicities, ensuring that there is truly an option for any palette and budget. Known for its coffee and cupcakes, a must-visit shop is the highly acclaimed Georgetown Cupcake. Other notable dining options include Bangkok Joe's, The Berliner, and Martin's Tavern.
While smaller in scale than Washington, D.C., Georgetown is constantly full of fun and exciting activities to take part in. Take a Washington Monuments Cruise from the Georgetown Waterfront or go bowling at Pinstripes, the possibilities for group activities are truly endless. Looking for an annual Georgetown event? Starting at the end of November, the town is full of lights for their Georgetown GLOW annual tradition to celebrate the holiday season and bring in the new year.
No matter what your group is looking for, Georgetown is a perfect addition to any Washington, D.C. trip and is flooded with food, shopping, and fun activities to fill a day on the itinerary.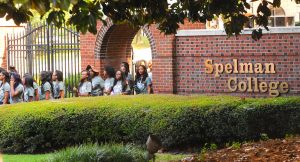 Spelman College, a historically Black college and a global leader in the education of women of African descent, is dedicated to academic excellence in the liberal arts and sciences and the intellectual, creative, ethical, and leadership development of its students
Read More »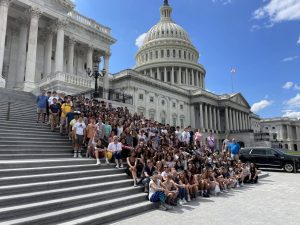 Have you ever wanted the opportunity to meet a Congressperson or Senator? The perfect chance is during a school trip to Washington, D.C. Students looking to get involved in government/politics can make an early connection and jumpstart for future career opportunities. Below we have outlined our top questions for students to ask when meeting an elected official. Use the link below to begin planning your Washington, D.C. School Trip and mention wanting to meet a congressperson or senator to our landmark team.
Read More »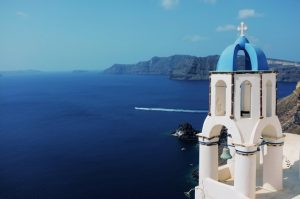 Traveling is exciting, it is fun, it is unforgettable, but it can also be scary. Going out into the world, into the unfamiliar can make you vulnerable and afraid. This is one of the primary reasons we do what we do. The benefits of having a highly esteemed tour operator go beyond the hassle of planning the trip. It comes with expert safety knowledge and a leader on the ground with you ready to tackle any unforeseen event that may take place. As the world gets back into travel full force, we are ready and prepared to guide your group through anything.
Read More »